We're pleased to announce that we've released the latest version of lino iPhone/iPad app.

In this version, we've added support for Push Notification. When someone posts a sticky on your canvas or a group canvas, we send you a push notification so that you don't miss it.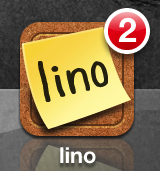 And now, you can see the number of tasks due today as a badge on the app icon. Use lino to manage your tasks and you won't forget them.
In addition, we added some features that makes it easy to use lino with your friends, like sharing a canvas via email and Twitter.
It's time to try lino iPhone/iPad app now!