New update on lino!
Users can check new stickies on canvases! Click on "Highlight New" to see new stickies.
Clicking on the red button next to "Highlight New" displays stickies around the center on your display. Continue clicking to see stickies by reverse chronological order up to 10 new stickies.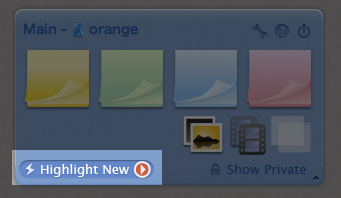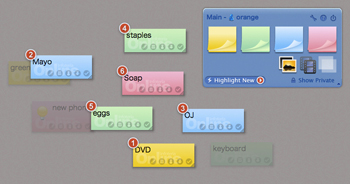 Here is the keyboard shortcuts,
m : Highlight New Stickies
n, j, [Right arrow key] : Next
p, k, [Left arrow key] : Previous
[ESC] : Exit from "Highlight New"
Other updates are followings.
#11108
Number of access to user's public canvases became displayed on dashboard.
#10361
Icon select UI became easier to use.
#11012
Links to linoit.com in stickies became to open in the same window.
#11057
By posting canvas URL, its canvas name is treated as a link now.
Also, canvas name that contains double-byte characters became to be defined as a link.
#11068
Changed the method of counting access number. It simply shows access number now.
#11074
Fixed a defect that overlapped stickies did not come to the front by clicking on its text content.
#11090
Fixed a defect that moving multiple stickies at once brings them below other stickies.
#11128
Fixed a defect that moving multiple stickies moves some of them to the top left in some cases.
#11098
Fixed a defect that order of stickies was changed unexpectedly by transferring multiple stickies to other canvases using moving multiple stickies function.
#11152
Fixed a defect that stickies being removed could edit.
#10977
Zoome movies that do not allow exterior player can not be posted now.
#10981
Adjusted the layout of My Friends on dashboard.